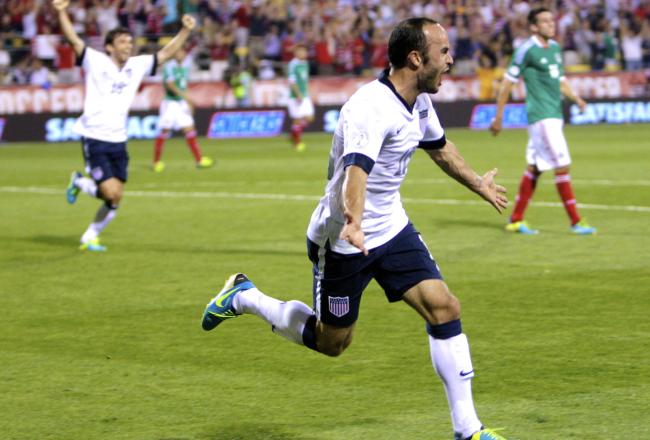 I finally had time to sit down and watch the part of the US-Mexico game that was played during our boys' practice, and I saw something of interest.
I couldn't help but share it with you.
Late in the first half, the US had a corner kick. Eddie Johnson had a great chance to score when he ran in unmarked and put a header on target, but the Mexican keeper saved it well. View it below (it's a very short clip; just 16 seconds).
So how did he get so open? Surely the Mexican team, the Mexican players knew that EJ would be a danger in the air. So why didn't they mark him?
It turns out, they probably would have, if they could. But the Americans worked together to make space for each other. American defender Omar Gonzalez, another threat in the air on set pieces, uses a soccer version of basketball's "pick-and-roll" (although really it's just the "pick" part). He stands in a position similar to others who want to attack the ball at the beginning of the play. But instead of moving to the ball, he stands his ground and prevents Johnson's defender from being able to move with Johnson. Meanwhile the defender marking Gonzalez has nowhere to go, as Omar is going nowhere. Is this a legal play? Technically not, as Omar plays the man, not the ball. But he is facing the ball, he doesn't knock anyone down or physically hold on to anyone, so it is a call that will almost never be made. This video shows the replays and explanation of what Omar does (only 25 seconds):
Eventually Eddie Johnson did get what would end up being the game-winning goal, on a header off of a corner kick. The "pick-and-roll" was used again, but not quite as effectively (though obviously effectively enough), and not by Omar Gonzalez but by his partner in central defense, Clarence Goodson. By varying who attacks the ball and who creates the space they create a situation that is much more difficult to defend.
So what does this mean for us? Well, in attack it means that even if you're not the one attacking the ball you can play a role in making things easier on your teammates to find space. In defense it means you have to be aware that other teams may try to push against you to take you out of the play and you have to be prepared to deal with that.
Finally, I am throwing another video in here just for fun. US Soccer records footage from multiple cameras along the sideline during games and cuts together really nice videos called "Field Level Highlights". Here is the one for USA-Mexico. Great fun, though it is a bit long at 17 minutes (but if you skip the pre-game, halftime, and post-game stuff its more like 11 minutes).